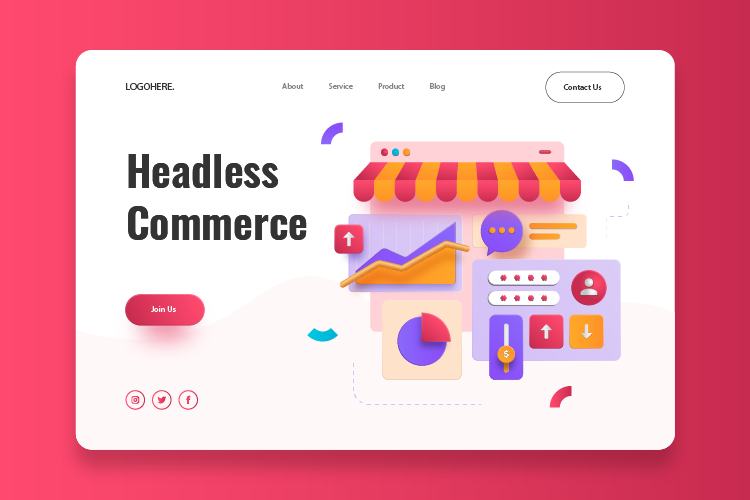 HEADLESS COMMERCE: A BOON FOR RETAILERS
With an increase in rapid digitalisation, the world of Digital shopping is on a boom and E-commerce is headed towards a huge transition. Earlier, small businesses, which were a symbol of a new wave of digital entrepreneurs, were a lot easier to manage. The online marketplaces were a lot simpler and there were no rules. However, as the market evolved, the level of competition increased drastically. E-commerce became a big business and the marketplaces needed to make sure that they delivered a better experience to merchants as well as shoppers. In order to do this, they partnered with third-party companies and created a new concept called headless commerce.
WHAT IS HEADLESS COMMERCE?
When you think of e-commerce, you think of products, but not purchases. A purchase is not just the act of paying for the product, but the entire customer journey that leads up to that point. Headless Commerce refers to the purchase journey that follows the point of conversion, more specifically it refers to the journey that happens on the platforms that marketers care about, like Facebook, Google, and others.
Headless commerce, or over-the-head commerce means that the front-end is decoupled from the back-end and thus the e-commerce platform is completely independent of the front-end.
With headless commerce, the e-commerce company does not need to have any website at all. In this case the trader does not have a website with a shopping cart. The shopping cart is moved on to a 3rd party marketplace.
HOW IS HEADLESS COMMERCE DIFFERENT FROM TRADITIONAL COMMERCE?
Traditional commerce uses a monolithic model that restricts flexibility of modifying their website. For example if the hardware was purchased from one brand, it is only compatible with a similar software.
Though this method is effective in having all round IT control of your website, it delays tactic and innovation due to high development costs and slow go-to market timelines.
Headless Commerce on the other hand allows brands to create unique commerce experiences for its customers using APIs (Application Programming Interface). Because of its ability to separate back end and front end, fulfilling complex commerce requirements such as customised react.js or angular cites is viable.
BENEFITS OF HEADLESS COMMERCE FOR RETAILERS
Flexibility for development
With headless commerce, brands can choose and modify the e-commerce platforms that suit their business models the best while creating a suitable front end and create unique experiences for the consumers from scratch. This allows endless flexibility to the development team of the business as they would not have to worry about modifying their database in the backend. They can just run a simple procedure known as the API call instead.
Advanced customer experiences
Headless Commerce is extremely adaptable, meaning it has the ability to support latest technologies as and when they rise. The technology enables the company's marketing team to use the latest technologies to whip up the best strategies for the website.
Headless commerce also makes it easier for the backend to store customer data and understand buying patterns across all channels. This data can be used to power the personalisation engines in the Content Management System (CMS) and other channels. This enhances the customer experience on a greater level.
Headless Commerce enables the business to set up an efficient solution as it has the ease of building front end experiences on different devices and touch points. This is possible because the customer data is stored is stored centrally and can be easily accessed through an API call to any location. This allows a faster time for marketing across multiple channels, new locations and other factors.