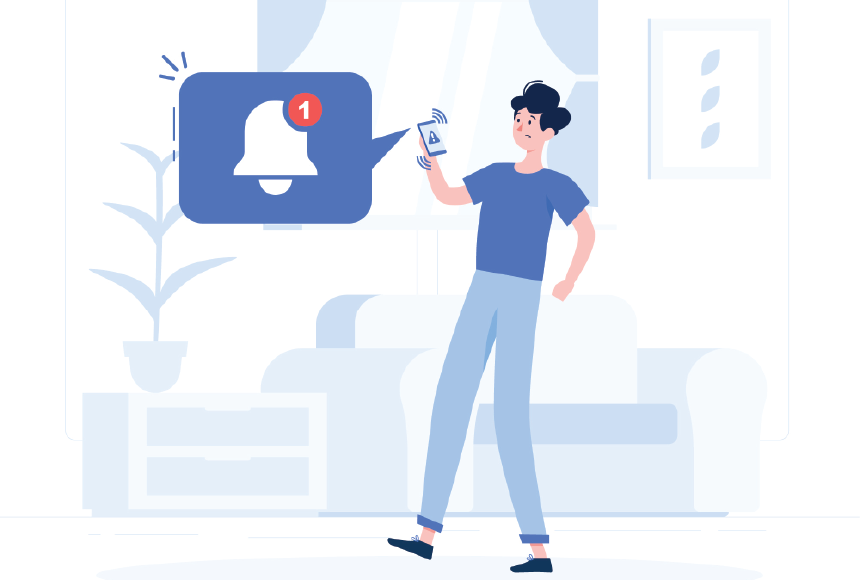 Push Notification Marketing: The advantages of pop-up alerts
As our usage of the internet exceedingly increases, we are bombarded with advertisements and notifications constantly trying to capture our attention. Though we would most likely dismiss these pop up messages, they can be used as an effective marketing tool. Push notifications are becoming increasingly popular because they are a personal way to engage with your users. But, if not used effectively, they can be ineffective and annoying.
WHAT ARE PUSH NOTIFICATIONS?
Push Notifications are essentially just crisp pop-up messages that spring up on the user's mobile and desktop probing them to take immediate action about something. It is a great way to keep your customers updated about offers.
Push notifications are a great way to reach out to your customers, clients, and others in your network. They are also a great way to increase brand visibility, customer loyalty, and engagement with your brand.
There are multiple types of Push notifications according to the requirement of the brands and their strategies. Such as
Mechanical Push Notifications: These pop-ups are triggered and sent by the application after specific user action, at a certain time or during a programmed event.
Behavioural Push Notifications: These notifications are sent according to consumer behavioural patterns or the gathered statistical data. They can also be recurring notifications that are programmed to be sent based on consumer patterns.
– Location Based Push Notifications: These notifications are geo-triggered and are sent when the users turn up at a certain place. They are programmed according to the demographic data collected from the users. 
BENEFITS OF PUSH NOTIFICATIONS
There are several advantages of using the Push Notifications. Creating the right marketing strategy can be an effective way to gather customers and nudge them into making beneficiary actions.
Increased User Engagement
Push notifications instantly capture user attention and help greatly in turning inactive users into active users. They help in keeping consumers updated and send real time reminders to prospective consumers to engage with the brand.
Customer Retention
Consistent and strategic re-engagement through push notification strategies ensure that the users keep coming back. Several studies showed that user retention rates are increased almost by ten times when they are sent relevant push notifications.
Enhanced Brand Value
Valuable push up notifications can help greatly in increasing a brand's value and awareness. Personalised alerts according to consumer behaviour patterns make users feel the brand experience on a higher level.
Easy Usage
Push Up Notifications, being short and hassle free are much more convenient than messages and mails. They are simple, straight to the point and uncomplicated, thus making them highly effective and consumer friendly.
Trackable Metrics
A significant advantage of push up messages is their ability to capture complex analytics about consumer engagement with the brand. These metrics can be effectively used in personalising the push up alerts.
Creating a push notification campaign is not easy. But if you have the right strategy in place, it can be very effective in the long run.